John Davenport (1597-1670)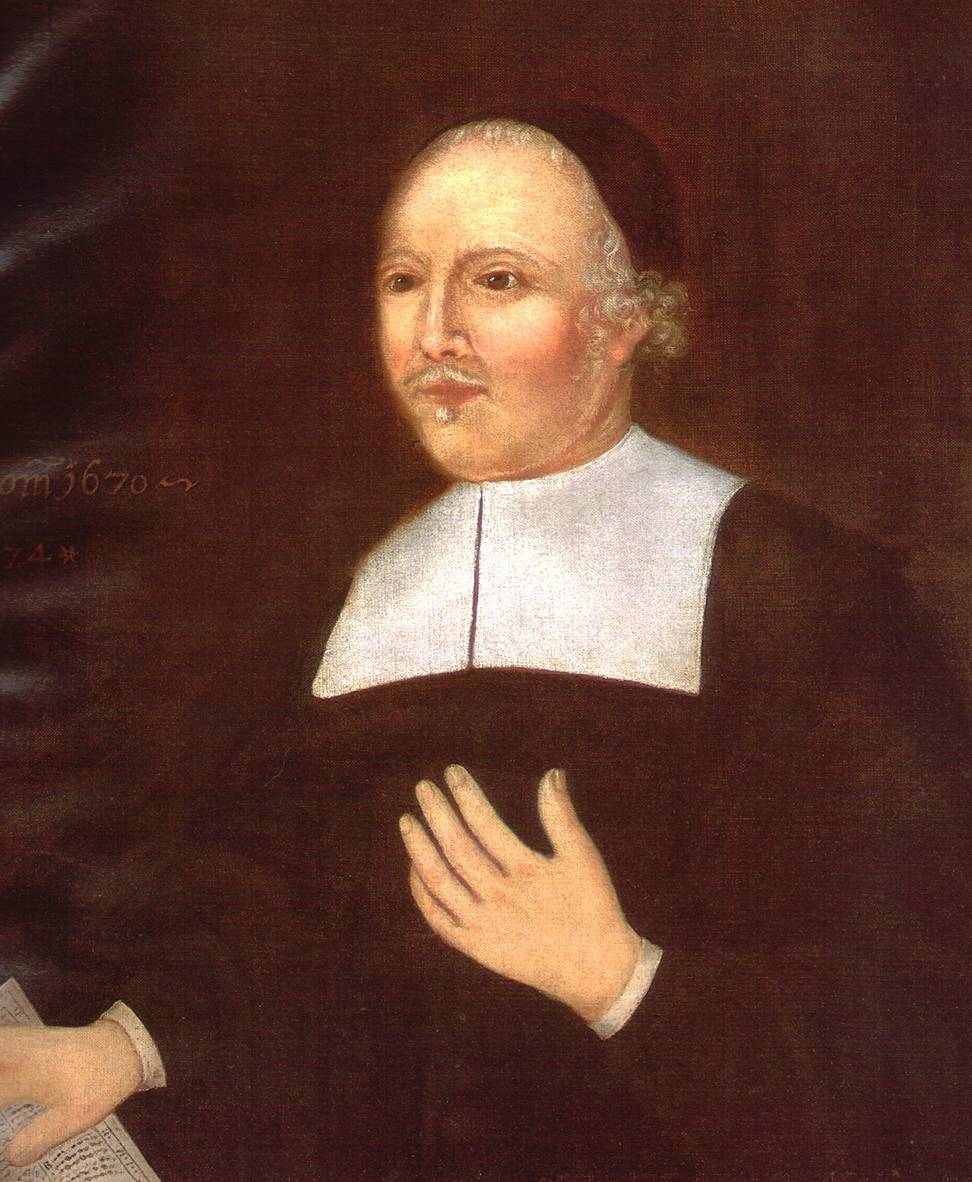 John Davenport was a puritan clergyman whose career began in England, continued in the Netherlands, and reached its culmination in New England, where he was one of the founders of the New Haven colony. Because of his long life and varied contributions, he is one of the more significant figures in the history of seventeenth century puritanism.
Davenport was born in Coventry, Warwickshire in 1597. He was baptised in Holy Trinity Church. Both his father Henry and his uncle Christopher were prominent leaders of the community, both serving at times as mayors and aldermen of Coventry. John was educated at the town grammar school and then entered Merton College, Oxford in 1613. Two years later he migrated to Magdalen Hall. Both of these colleges had a reputation as centers of religious reform.
Before graduating, Davenport left Magdalen Hall to accept a living as chaplain at Hylton Castle in county Durham. He preached regularly at St. Katherine's Chapel there from November 1615 until March 1616. Over three dozen of his sermons there have been preserved in manuscript.
John Overall, Bishop of Coventry and Lichfield, ordained Davenport as deacon in October 1616 and priest in January 1617. By that year Davenport was part of the London puritan community. He was presented by the authorities for preaching and officiating at church services in the parish of St. Mary Aldermanbury without a license in October of that year. There is also evidence that he taught school in the parish of St. Martin in the Fields. In 1618 he was installed as curate of St. Michael's on Huggin Lane. In 1619 he was appointed curate and lecturer in the parish of St. Lawrence Jewry. He soon earned a reputation as a popular preacher and began to attract some of the leading men and women of London to his sermons.
Some of Davenport's new connections were with the merchants and nobles who were involved in England's overseas expansion. In 1621 he was selected to preach a sermon to the members of the Virginia Company, and in May of the following year was admitted as a member of that company.
Davenport had made connections with prominent puritan laymen, including Sir Edward Conway and Sir Henry Vere, who played a role in his appointment to be vicar of St. Stephen's Coleman Street, in London in 1624. No sooner was he installed than he had to face the challenge of the devastating plague that afflicted London in 1625. At a time when many fled the capital, Davenport was one of the clergy who remained in their posts to minister to their flocks, earning the gratitude of his parishioners.
In 1625 Davenport returned to Oxford to complete his degree, and after successfully engaging in a theological disputation was awarded his B. A.
During his years at St. Stephen's he became one of the key figures in trying to promote the cause of international Protestantism. He assisted John Dury in that clergyman's efforts to promote Christian union. He joined with fellow puritan clergy to raise funds for the relief of Protestant refugees from the Thirty Year's War. He preached to the London Artillery Company urging them to prepare themselves to fight for the international Protestant cause. He also became engaged in the Feoffees for Impropriation, an effort to raise money to place godly preachers in as many English pulpits as possible.
Davenport earned a reputation as a powerful preacher. Hugh Peter, William Kiffin, and Robert Keayne were but a few of those who travelled to St. Stephen's to hear him preach. His focus on the need for Calvinists to present a united front against Catholic error and Arminian heresies made Davenport reluctant to take a stand against church ceremonies and practices that he would have preferred to see reformed.
The appointment of William Laud as Bishop of London had a negative impact on Davenport's career and the puritan cause in general. Laud not only was more insistent on conformity to all the procedures of the church, but also took steps to introduce and require innovations that he believed would restore the "beauty of holiness." Many puritans believed that these initiatives represented a move back towards Catholicism and surrendered their pulpits rather than go along with the changes. Laud was critical of the effort to raise funds for continental refugees, and took steps to shut down the Feoffees, both of which had an impact on Davenport. In a 1633 meeting with John Cotton, Thomas Hooker and other prominent puritans, Davenport was persuaded that the conformity then being demanded was not something he could in conscience agree to.
Members of the English congregation in Amsterdam invited Davenport to share the pulpit of their church with the elderly John Paget, and Davenport agreed to join them, hoping to avoid a confrontation with Laud. He likely also felt that in the Netherlands he could easily return to England if the religious situation improved. Paget, however, sought to persuade the Dutch Classis that supervised the English congregation to refuse Davenport a ministerial post. The clash between the two men nudged Davenport further in the direction of congregationalism, and helped him clarify his views on the practice of infant baptism.
After failing to receive the approval of the Dutch authorities to minister in Amsterdam, Davenport moved on briefly to the Hague (where Elizabeth gave birth to their son, John), and then to Rotterdam, where he joined Hugh Peter in ministering to an English congregation that Peter had reorganized on strict congregational lines. The English government was, however, exerting pressure on the Dutrch authorities to crack down on such exile English churches, and both Peter and Davenport concluded that their best hope of advancing the kingdom of God lay in migratign to the New England.
Davenport, together with his long time friend Theophilus Eaton, members of St. Stephenn's parish, and other London puritans, arrived in Boston, Massachusetts in June 1637, at the time of the controversy swirling around Anne Hutchinson. Davenport boarded with John Cotton and sought to heal the breech that was threatenign to divide the colony. He participated in the synod called to define religious errors, and preached to the Boston church. During the church trial of Anne Hutchinson he stood out among the clergy for his effort (unsuccessful) to bring her to a position that would have been considered orthodox.
In 1638 Davenport and his followers moved to southern New England, establishing the town of New Haven on land that they had been authorized to settle on by Lord Say and Sele and other holders of the Warwick Patent. Say and Sele and his fellow English proprietors had intended to establish a colony in the region and settle on it. The disruptions caused by the Pequot War in 1636 and developments in England at this time led to an abandonment of those plans. Subsequently, the New Haven settlers would accept additional towns under their control and in the process form what became known as the New Haven colony.
New Haven reflected Davenport's strong belief in religious congregationalism with church authority vested in those deemed elect, and his belief in the control of civil affairs by the godly. His belief in the importance of the settlement was symbolized by his organization of the town along a pattern of nine squares that resembled what he believed to have been the nature of the old Jesusalem.
During the remainder of the 1630s and into the 1640s and 1650s, Davenport labored to promote education in his colony. He also followed events in England, taking hope from the Long Parliament's challenge to Charles I and the subsequent establishment of a puritan regime in the mother country. He was invited to sit in the Westminster Assembly of Divines, called to reform the Church of England, but declined. He also declined an invitation to play a role in the reformation of the religious scene in Ireland. But while remaining in New England, Davenport preached and wrote in support of the transformation of England.
Following the restoration of the Stuart monarchy in England in 1660, Davenport played a key role in sheltering some of the English regicides who had been condemed for their role in the execution of Charles I. In 1662 the New Haven colony was incorporated into its neighbor Conecticut. Davenport was strongly opposed to this but coudl not prevent it. At this time he also found himself fighting an uphill battle against a liberalization of church membership requirements in New England that became known as the Half-Way Covenant.
With the role of New Haven having been marginalized, Davenport welcomed a call in 1667 to become the pastor of the First Church in Boston, a congregation previously served by John Wilson, John Cotton, and John Norton. A strong minority of the Boston church were opposed to his call and the New Haven church was reluctant to let him go. Davenport proceeded anyway and the episode became a very divisive one. In 1669 he preached the election sermon to the Massachusetts General Court and used the occasion to urge his fellow New Englanders to hold fast to their mission and covenant with God. He died on March 15, 1670 and was buried in what is now the King's Chapel burial ground in Boston.
Dr. Francis J. Bremer is currently researching a full length biography of Davenport which will establish his importance in the history of early modern religion and his significance in the formation of New England and of American culture. Dr. Bremer is a Professor of History at Millersville University fo Pennsylvania and chair of trhe History Department. He has held visiting appointments at Oxford and Cambridge Unviersities in England, and at New York University. He is an elected member of the Massachusetts Historical Society, the Colonial Society of Massachusetts, and the American Antiquarian Society, and served as a member of the Council of the Omohundro Institute of Early American History.
Dr. Bremer is the author or editor of twelve books on puritanism in the Atlantic world: The Puritan Experiment: New England Society from Bradford to Edwards (1976, revised edition 1995); Puritan New England: Essays on Religion, Society and Culture (1977); Anne Hutchinson: Troubler of the Puritan Zion (1980); Puritanism: Transatlantic Perspectives on a 17th Century Anglo-American Faith (1993); Shaping New Englands: Puritan Clergymen in 17th Century England and New England (1994); Congregational Communion: Clerical Friendship in the Anglo-American Puritan Community, 1610-1690 (1994); John Winthrop: America's Forgotten Founding Father (2003); The World of John Winthrop: England and New England, 1588-1649 (2005); the two volume encyclopedia Puritans and Puritanism in the Atlantic World (2006); and Winthrop Papers: Religious Writings (web publication, forthcoming). John Winthrop: America's Forgotten Founding Father won the John C. Pollock Award for Christian Biography and an Outstanding Book citation from the Colonial Dames of America. Puritans and Puritanism in the Atlantic World was named a Choice magazine Outstanding Academic Book for 2006. Dr. Bremer's latest work, Puritans: An Early Attempt to Build the Kingdom of God in America will be published by Oxford University Press in 2008.
The Davenport Project website will include copies of addresses that Dr. Bremer has delivered on John Davenport, illustrations from the life of the puritan clergyman, and transcripts of some of Davenport's unpublished work.